BUG: CCL doesn't always log messages from contacts who are in your Global Address List
Posted: April 12, 2007
Current CCL Version as of posting: 3.0.1158
SUMMARY
If a contact's email address resolves to a GAL entry, emails received from that person's SMTP address may not get logged by CCL.
DETAILS
When you double-click on an underlined email address in Outlook, you might see one of two dialogs. The first is a simple SMTP address dialog, such as the one shown below: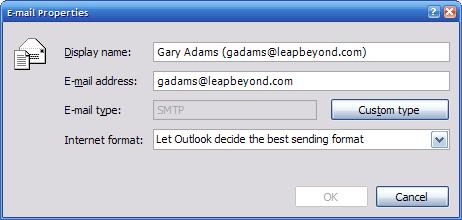 The other is a GAL contact dialog, which looks like this: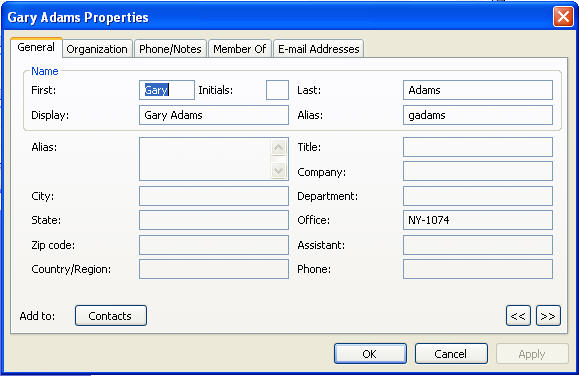 When you open a contact in your public contact folder, and double-clicking one of the email address fields (Email1, Email2 or Email3) produces the GAL dialog, it means the address is resolving to a user on your Exchange server. In this case, a field like Email1 can actually contain more than one email address (shown on the E-mail Addresses tab).
CCL uses a high-performance technique to cache email addresses for your contacts. In the case of a GAL entry, only the first address seen on the E-mail Addresses tab will be cached (usually the X.400 "Exchange" address - i.e. the one containing slashes). If the contact sends you an email from outside of your Exchange server, it may not be from this address. In this case, CCL will not recognize that the email is from this contact.
Note that typically the public contacts folder you use with CCL (i.e. your tracked contacts) should only include contacts from people outside your organization.
WORKAROUND
The easiest way to resolve this issue is to delete the underlined email address from the contact, and manually type in the person's SMTP address (e.g. gadams@leapbeyond.com). Alternatively, you can add the SMTP address into another email field.